Genomics
Nanopositioning Solutions for Genomics, Next Generation Sequencing, Microscopy, and Molecular Diagnostics Instrumentation
Next-Generation Sequencing is within a portfolio of key technologies that is transforming healthcare. Next-Generation Sequencers are complex instruments which pose unique challenges for the motion sub-systems, warranting specialized nanopositioning system engineering for genomics and molecular diagnosis applications.
Step and Settle Performance
The proper use of mechanical and electrical motion technologies allows axes within high throughput sequencing instruments to step and settle into position rapidly with minimal system resonance.
Steady State Stability
Axis stability within a complex instrument is a challenging task but is required for critical processes such as imaging. The proper design and repeatable manufacturing of critical axes can form a stable foundation within the motion system and provides a performance margin of safety.
Increased Throughput
Understanding a full system's architecture and interactions within the motion sub-systems allows for the identification of robust electro-mechanical solutions that respond quickly without disturbances that slow down throughput.
Reduced Cost
Pursuit toward the $100 genome will increase adoption of genomic technology within healthcare. Identifying the ideal nanopositioning system engineering solutions that balance cost and performance can contribute to this breakthrough milestone.
Collaborative Solutions
Collaboration is our top priority. As an extension of your engineering team, we consider your application requirements and constraints, then propose solutions that balance your cost, timeline, and performance goals.
Fast Innovation Cycles
Motion Solutions has made strategic investments into capital equipment and dedicated staff that will help your project advance and transition seamlessly from conceptualization to OEM manufacturing.
CUSTOMER APPLICATIONS FOR
Nanopositioning Solutions for Genomics
Z-Axis Focusing Stage
High-Speed Optical Gantry on Granite
Image Scanning Stage
XYZ Stage for
Sample Positioning
Featured Products
Z Focus
Long-travel piezo Z focus stage
Piezo Z focus stage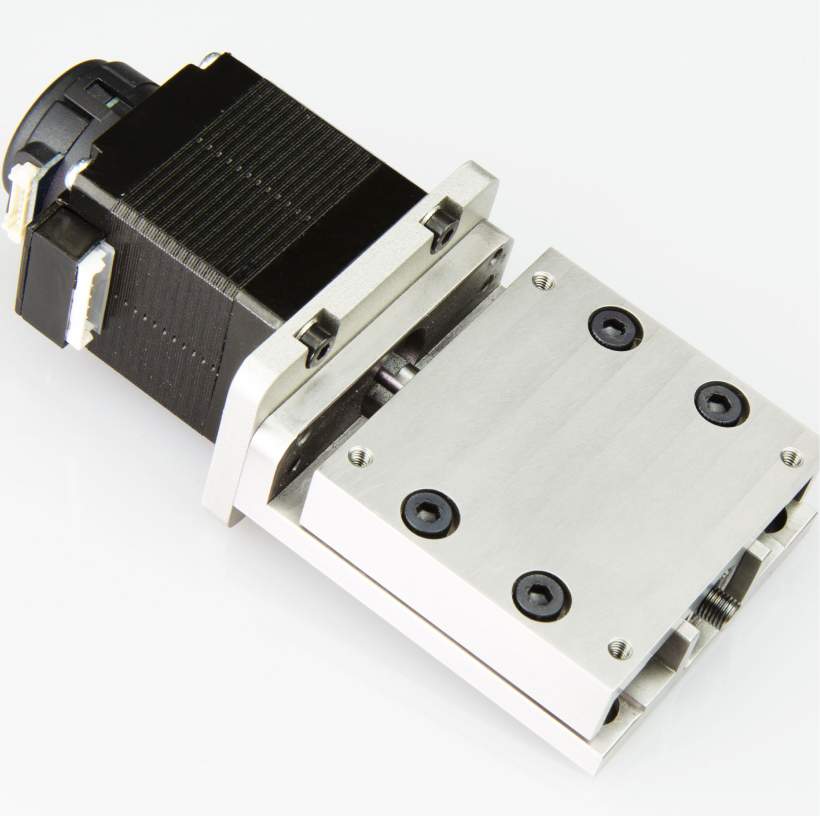 Compact Stages with Cross-roller Bearings
---
Featured Products
X & XY Linear
Linear Motor Stage
Long-travel piezo Z focus stage
---
Featured Products
Tip Tilt
---
Motion Technology
We offer both broad motion and nanopositioning system engineering technologies to adapt to optimize the solution for performance, cost, and packaging:
Direct Drive Linear Motor & Voice Coil
Piezomotor
Ballscrew & Leadscrew
Cross Rollers, Flexures, Air Bearings, & Ball Bearings
Collaborative Culture
Our mission is to partner with innovators to challenge the limits of motion technology to make the world a better place.
There are multiple approaches to every problem. Diverse thinking and collaboration can produce unique solutions that enable breakthroughs in the development process.
20+ degreed experienced engineers across multiple disciplines
A five Phase engineering process of data-driven review of solutions from conceptualization and throughout production
Embracing innovation and continuous improvement in our business and products
Development Tools & Resources
Motion Solutions has made investments into technology & capital equipment allowing us to be an agile, responsive partner in your genomics and molecular diagnosis development process:
Laser Lab for Motion System Development & Characterization (Interferometry and Autocollimator Tools)
CNC Machine Shop for Rapid Prototypes and Proof of Concepts
Tools and staff for verification and validation programs prior to production transfer.
Robust Production and Supply Chain
At MOSO we are committed to quality in both our products and execution of customer projects utilizing an array of tools and systems:
ISO13485 Certified Facility
Cradle-to-Grave Product Management
Lot control & serialized manufacturing
Inventory & Supply Programs to Support OEM Manufactuing
Partnerships with best-in-class material suppliers in motion control and automation.
---